More on Zero Gecko low power ARM Cortex-M0+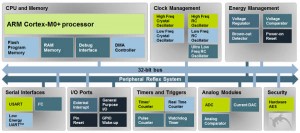 Silicon Labs released information on its ARM Cortex-M0+ microcontroller earlier this week.
Called Zero Gecko, the range was acquired with the rest of the Cortex-Mx based Gecko family when SiLabls bought Energy Micro earlier this year.
Zero Gecko has been a long time coming: it was first announced in March 2011, with introduction predicted in Q4 2011.
"Production quantities are planned for Q4 2013," said Silicon Labs this week.
Energy Micro's speciality is low power peripherals, many of which an be set-up to communicate while the core is shut down.
In the Zero case, it is offering a whole bunch, including: a 12bit ADC which offers 1Msample/s for 350µA, its 'low-energy' UART (150nA at 9,600 baud with a 32kHz clock), and a rather neat current output DAC (50nA to 64µA output) consuming only 10nA on top of the output.
See the diagram above for a complete set of peripherals.
The low-energy UART is a neat idea invented by Energy a while ago. Its extraordinary low power consumption comes from limiting its operating speed. In larger Geckos, it is usually offered alongside a faster UART with higher power consumption.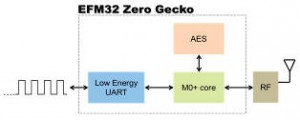 One of them is a security processor, and suggested applications at the launch included a secure network controller (left).
Riding on its low power consumption was another launch application – a hi-jack interface that takes energy from the audio jack of a phone and uses it to add two-way communication for sensor use. "An application note and source code is available," said SiLabs.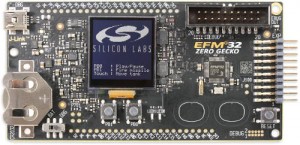 There is a starter kit called EFM32ZG-STK3200 which includes a memory LCD and capacitive touch buttons.
Zero Gecko's modes are:
Run 110µA/MHz
Sleep 50µA/MHz
Deep sleep 900nA – RTC, BOD, RAM retained, CPU retained.
Stop 510nA – BOD, RAM retained, CPU retained.
Shutoff <20nA – Pin/GPIO reset
There are 16 MCUs in the range, with 4-32kbyte of flash, and up to 37 I/O pins in QFN24, QFN32 or QFP48 packages.