NI introduces 5G ready SDR development platform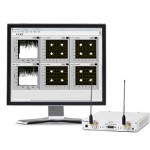 National Instruments has introduced a software defined radio (SDR) platform, based on programmable hardware, for prototyping multi-channel wireless communications systems.
Built on FPGA-based RIO programmable hardware, the USRP RIO platform incorporates a 2 x 2 multiple input, multiple output (MIMO) RF transceiver capable of transmitting and receiving signals from 50MHz to 6GHz.
The system is capable of real-time processing using its Xilinx Kintex-7 Series FPGA and a PCI Express interface.
Likely applications include 5G wireless communications research, active and passive radar development and connected smart devices.

Tags:
development platform
,
SDR
,
software defined radio
,
wireless communications
Related Tech News
Share your knowledge - Leave a comment