Many Power cores, less power wasted, in defence computer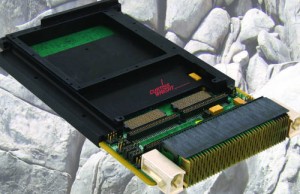 Curtiss-Wright Controls Defense Solutions has introduced a rugged 3U single board computer with a Freescale's quad-core QorIQ T2080 Power Architecture processor, dissipating 37W.
Called VPX3-133 "it delivers a high level of computing functionality in the 3U form factor with low power while providing industry leading I/O flexibility," claimed the firm.
Available in either air-cooled or conduction-cooled variants, "its integral high-speed backplane fabrics and XMC mezzanine module connectivity support multi-Gbyte/s data flows from board-to-board, both through its backplane interface and from the backplane to its XMC site", said the Curtiss-Wright. "The board is designed to deliver the high bandwidth processing needed to handle the acquisition, processing, and distribution of sensor data required by defence and aerospace applications such as video, radar, and sonar."
I/O includes: two x4 lane (switchable to one x8) PCIe ports on the VPX P1 connector, VITA 42.3 or VITA 61 at the XMC site, two GbE interfaces on P1 connector mapped per VITA 46.9 or two 1000Bx as per OpenVPX, two RS-232, two RS-422, four LVTTL discretes (I/O+interrupt), two USB 2.0, and single SATA 2.0.
The processor chip has four 64-bit dual-threaded cores running at 1.5GHz, each with an AltiVec floating point/SIMD engine.
It supports up to 8Gbyte DDR3 with error correction, 256Mbyte of direct-mapped flash, and 8Gbyte of NAND flash.
"It is equally well suited for use as a mission computer, display computer, or in SIGINT and motor control applications," said the firm. "When combined with a graphics mezzanine card, such as our XMC-715, system designers get processor and graphics capability ideal for use in any mission and display computer."