Renesas asks students in Europe to build autonomous cars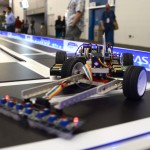 Renesas Electronics has launched a mechatronics design competition for students in Europe for the building of an autonomous, self-guided car.
The hardware and software students develop will compete against other teams at an event called the MCU Rally Challenge, which will take place in Germany in the first quarter of 2015.
Take the Electronics Weekly UK Salary Survey 2014 »
The MCU Car Rally competition has been running for 20 years in Japan, with approximately 2,500 participants every year taking part over its history. It has also been held outside of Japan, including China and Vietnam, for over ten times in the past, all sponsored by Renesas.
The winning European team will qualify for a sponsored trip to the Renesas Micon Car Rally in Japan in August 2015.
The contest is open to all European university students, although priority will be given to students from Renesas' partner universities.

Tags:
automotive
,
europe
,
Japan
,
Renesas
Related Tech News
Share your knowledge - Leave a comment