SparqEE has mobile interface shield for Raspberry PI
Los Angeles-based developer SparqEE has created a cellular communications development platform, which will connect to Raspberry Pi or Arduino and it is looking for project funding on the Kickstarter website.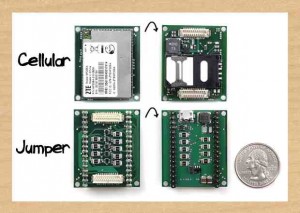 Called the CELLv1.0,  is claimed to be the first Kickstarter crowd-funding project to offer an internet platform for cellular.
"I've been on plenty of projects where a simple cellular connection would have been a game changer to have," says SparqEE co-founder Chris Higgins.
"We wanted to give people something they could use on any project well into the future and on any board, not just the current rev of the Arduino or Raspberry Pi."
The CELLv1.0 kit will include the cellular board, a jumper board to allow Arduino, Raspberry Pi, or any development board, an antenna, and power cable.
SparqEE is offering dev boards and shields such as GPS, accelerometer, relay, and a connection to the Arduino and Raspberry Pi, made available through Kickstarter's donation reward system.
SparqEE says it has created an ecosystem for the CELLv1.0 that gives free access to its servers.
"So we put together a SIM card offering that works anywhere in the world – it's the easiest to setup, no minimums, and is the lowest cost I've ever seen. For example, for a tracking application we're working on, a worldwide 1MB plan is going to run at about $2/month," said Higgins.
There's a community help forum available.
Related news
Raspberry Pi pre-loaded with 6 operating systems
Camera project uses ARM processor for image recognition