TI's safe car chip combines Cortex-A15 with C66x DSP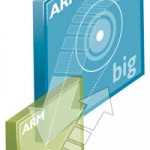 Texas Instruments unveiled in Baden-Baden, Germany an automotive system-on-chip (SoC) device for advanced driver assistance systems (ADAS).
With its TMS320C66x digital signal processor cores, the chip  provides 2D and 3D surround view and rear collision warning and can also run a pedestrian/object detection algorithm developed for the front camera.
TI's TDA2x also serves as a central processor for fused radar and camera sensor data, allowing more robust ADAS decision making.
There are ARM Cortex-A15 MPCore processors and dual Cortex-M4 cores along with video and graphics cores and peripherals.
Dubbed a Vision AccelerationPac, this is designed to run low to mid-level vision processing functions, offloading the DSP and ARM cores.
The Vision AccelerationPac contains one or more multiple Embedded Vision Engines (EVEs), comprised of an optimised vector coprocessor and a 32-bit programmable RISC core.
TI is offering royalty-free software libraries and framework to provide developers an optimised collection of vision and imaging functions.
The TDA2x is under development respecting the relevant requirements of ISO 26262 functional safety standard. Supporting safety documentation will be available to customers upon device PPAP and release.
The TDA2x is currently sampling and is intended for high-volume automotive manufacturers.