XMOS intros USB-specific starter kit
XMOS has introduced a design starter kit based on the high performance xCORE-USB device family, the 16-core XS1-U16-128.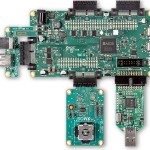 Equipped with an integrated High Speed USB 2.0 PHY, the device supports 480Mbps data rates and USB Audio Class 2. The xCORE-USB sliceKIT includes a USB sliceCARD with USB A and USB B connectors, delivering a complete embedded processing platform for USB applications.
It will be used for audiophile and consumer audio products, sound bars, multi-channel USB audio interfaces, protocol conversion and bridging.
"The xCORE-USB family of multicore microcontrollers provides the flexibility, low latency and determinacy required by designers developing USB-enabled applications," said Paul Neil, v-p product management, XMOS.
Development using the xCORE-USB sliceKIT takes place within the xTIMEcomposer Studio integrated design environment, and uses xSOFTip soft peripherals. This allows developers to employ a unified design flow based on C/C++, of a type that will be familiar to any microcontroller software engineer.
The complete suite of free design tools includes an Eclipse-based integrated design environment, a highly efficient LLVM compiler, debugger, the xSOFTip configuration tool xSOFTip Explorer, a cycle-accurate simulator with waveform view, static timing analyzer, and the xSCOPE high speed in-circuit instrument that provides a virtual logic analyzer for real-time applications.
The xCORE-USB sliceKIT core board features two digital expansion slots that can be populated with I/O extension cards (or 'slices'), a mixed signal slot, and interface for the xTAG debug adapter.
XMOS offers different I/O slices in addition to the USB sliceCARD, including Ethernet, UART, ADC, LCD graphics and digital audio, allowing designers to rapidly develop, prototype and debug their designs.
The xCORE-USB sliceKIT starter kit is available at a cost of $229 and includes the xCORE-USB core board itself, USB and mixed signal slices, xTAG debug adaptor and power supply.