Mini boost chip make up to 27V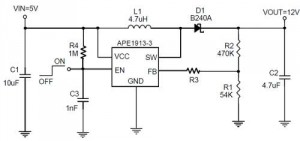 Advanced Power Electronics has introduced a current-mode step-up converter for small low power applications.
The input voltage of APE1913-3 can range from 2.6 to 5.5V, while the output voltage can be adjusted up to 27V. A pin shuts the chip down to under 1µA consumption.
Nominal operating frequency is 1.2MHz and "enables the use of small external inductors and capacitors and facilitates fast transient response", said the firm.
When lightly loaded, it automatically switches from PWM to PFM to improve efficiency, and has built-in soft start.
Protection includes: under-voltage lockout, current limit and thermal shutdown.
It comes in a TSOT-23-5 package.

Related Tech News
Share your knowledge - Leave a comment