Brushed motors are not forgotten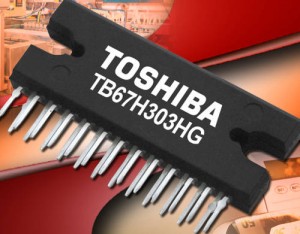 Toshiba has launched a one-channel dc brush motor driver IC for industrial equipment.
"TB67H303HG is the industry's first monolithic IC to realize 10A output current and 50V withstand voltage," said the firm. "High output current and voltage are required for motor driver circuits in industrial equipment, banking terminals such as banknote recognition systems, home appliances including sewing machines, and office automation equipment. These requirements make it difficult to design circuits with a single driver IC, as the high current generates heat."
On-resistance to 0.2Ω or less, "80% that of its predecessor", said Toshiba, speaking of the earlier TB67H400AFTG.
It can operate in two modes: standard direct PWM mode, or the constant current PWM mode – both modes support forward, reverse, short brake, and stop.
Thermal shutdown is included, as is over-current detection, and under-voltage lockout.

Related Tech News
Share your knowledge - Leave a comment