Amantys and Hitachi target IGBT drivers at wind turbines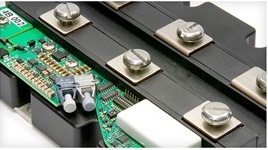 Amantys has teamed up with Hitachi Europe to sell IGBT module gate drivers, initially encompassing Amantys Power Drives at 3.3kV and 4.5kV operating voltage, and with current ratings up to 3600A.
The companies said they will target applications such as wind turbine inverters, locomotive traction and medium voltage industrial drives.
The Amantys IGBT gate drivers incorporate Amantys Power Insight condition monitoring technology to observe and report critical power switching characteristics in real time using existing interfaces.
"Europe is an important market for Hitachi high power IGBT modules, and we are looking forward to cooperating with Amantys to provide our customers with the advantages of Amantys Power Insight technology," said Hirokazu Miyata, general manager, power device division at Hitachi Europe.
"This unique capability will give designers and operators information about the condition of the power switch, even during operation, which will have a major impact on system efficiency, reliability and availability," said Miyata.
According to Karen Oddey, CEO at Amantys, the agreement marks "a commercial breakthrough for Amantys and Hitachi".

Tags:
Hitachi
,
system efficiency
,
target
Related Tech News
Share your knowledge - Leave a comment