Automotive motor controller has 16bit CPU and LIN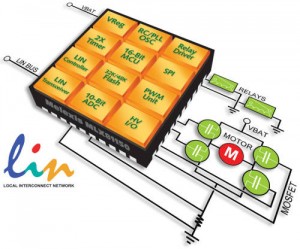 Melexis has announced a motor controller IC for dc and single or dual phase brush-less dc motors in vehicles.
Intended for environments with elevated temperature levels, MLX81150 has a 16bit embedded microcontroller with 32kbyte flash to deal with specific motor control applications, plus a 4bit CPU to take care of the LIN protocol.
http://www.melexis.com/DC-Motor-Control-ICs/General/MLX81150-710.aspx
Also on board are: a voltage regulator, a LIN transceiver, two relay drivers and four gate drivers for off-chip mosfets.
"A series of pre-programmed functional blocks assist in ensuring that efficient motor operation is achieved. There is also an interface for Hall sensor connection in order to enable position sensing to be carried out," sid the firm.
Applications are foreseen in positioning actuators with DC motors like throttle valves or window lifters, and those of the permanent running motors like auxiliary water or oil pumps.
There are two packages: 5x5mm QFN32 and 7x7mm TQFP48 (exposed pad), and the device is AEC-Q100 Grade 0 qualified with a working range of -40 to 150°C, and 45V load dump protection.