DC-DC converter has ARM7 processor for digital control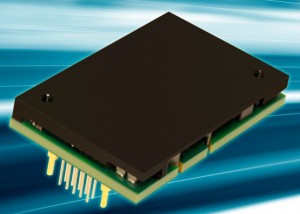 Murata Power Solutions has added an ARM7 processor to its latest design of isolated DC-DC converters.
The 420W UDQ2204/001 is the first in a series of DC-DC converters incorporating a PMBus compatible digital interface. The converter is packaged in the industry standard quarter-brick format incorporating the ABC (Advanced Bus Converter) pinout for PMBus communications to an isolated DC-DC converter.
The UDQ2204/001 is an isolated, fully regulated, 420W-12Vout quarter brick that supports the TNV input voltage range of 36V–75V with a typical efficiency of 95.5%.
The PMBus interface is used to support power management features. By attaching the UDQ to the system's I2C bus, an engineer can monitor Vin, Iin, Vout, Iout, and operating temperature.
The PMBus can be used to set warning flags for temperature, Vin, Vout, Iout and allows the user to customise parameters such as Vout, Vin turn on/off thresholds, output over voltage protection, output current limit and ramp up characteristics.

Related Tech News
Share your knowledge - Leave a comment