DC/DC boost converter runs at 30µA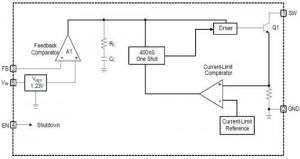 From Advanced Power Electronics, APE1910-HF-3 is a SOT-23-5 PFM (pulse-frequency modulation) dc-dc boost converter that can deliver up to 34V from 1.2-12V.
Switching current limit is typically 350mA, while quiescent current can be 30µA, and it shuts down to less than 1uA.
Switch saturation is typically 200mV at 300mA, and 77% efficiency is achievable (4.2Vin, 35mA load).
More data on the APE1910-HF-3 is available here.