Heliatek develops building-scale solar cells with AGC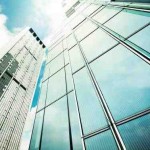 Heliatek, a Dresden-based manufacturer of solar cell films, has signed a joint development agreement with AGC Glass Europe, European branch of AGC.
The agreement is focused on researching and developing the integration of glass and solar films for the new application which creates a solar cell envelope for buildings.
"This will enable the entire glass façades of buildings, including windows, to become highly efficient, cost-effective, solar energy harvesters to reduce a building's carbon footprint," said the German company.
Heliatek's solar films are used in this application because they can be opaque or semi-transparent in a variety of colours.
The films are designed to be efficient over a range of light levels. In addition, they can operate efficiently in any orientation, even when not directly facing the sun and only receiving indirect or diffused light. Finally, their performance remains stable up to 80°C.
"Once developed, this will open up all vertical glass surfaces for PV. They offer a much larger installation area than roof tops that are the focus of today's solar building installations, plus there are no additional installations costs unlike conventional PV panels," said Thibaud Le Séguillon, CEO of Heliatek.