High-current Schottkys in low-profile pack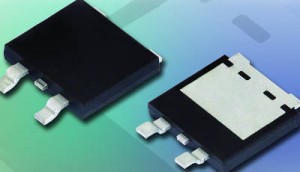 Vishay has expanded its range of trench MOS barrier Schottky rectifiers with 16 45, 50, 60, 100, and 120V devices spanning 10 to 60A, with a drop of 0.4V at 15A.
Intended for "commercial applications", said the firm, they fit a D2PAK (TO-263) footprint but are typically only 1.7mm high.
Each device has two die, connected at the cathode, and they are intended for high-frequency DC/DC converters, switching power supplies, freewheeling diodes, OR-ring diodes, and reverse battery protection applications.
Typical end products include phone chargers, tablet chargers, set-top boxes, LED TVs, computer power supplies, and ADSL modems.
The rectifiers feature a maximum operation junction temperature of +150°C and an MSL moisture sensitivity level of 1, per J-STD-020, LF maximum peak of 260 °C.
Samples and production quantities are available now, with eight week's lead for larger orders.
Part

IF

(A)

VRRM

(V)

VF at IF and TJ

IFSM

(A)

TJ max

(°C)

VF

(V)

IF

(A)

TA

(°C)

10

45

0.41

5

125

100

150

30

45

0.40

15

125

200

60

45

0.48

30

125

320

30

50

0.42

15

125

300

10

60

0.50

5

125

100

30

60

0.57

15

125

170

30

60

0.49

15

125

200

10

100

0.60

5

125

100

40

100

0.63

20

125

250

60

100

0.66

30

125

320

10

120

0.64

5

125

100

40

120

0.64

20

125

250

60

120

0.70

30

125

320

20

120

0.65

10

125

120

30

120

0.67

15

125

150

40

120

0.64

20

125

250