Intersil simplifies selection of mosfets and diodes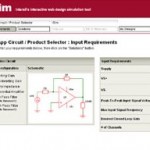 Intersil's latest version of its iSim Personal Edition (iSim:PE) circuit simulation design tool aims to simplify the selection of mosfets and diodes.
The tool allows designers to search, review and select mosfets or diodes based on design requirements, letting users easily filter and sort from all available devices.
With the tool simulated designs are displayed in an online schematic and can be verified immediately. After verification, iSim generates a bill of materials and design report.
A new feature allows designers to add jumpers, enabling easily switching between different circuit configurations.
Jumpers are electrically modeled as opens or shorts and are compatible with SIMPLIS for power management parts and SIMetrix for analog ICs.
The new iSim:PE v7.0 is available free-of-charge.