Lapis hikes MCU clock accuracy for motor control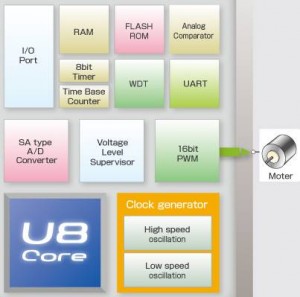 Lapis Semiconductor has raised the accuracy of on-chip oscillators in its 8bit microcontrollers for motor control.
The two chips offered are optimised to be built into single-phase fan motors, and it illustrates the need for accuracy with an example where multiple fans (one per MPU) run side-by-side in a server.
"If rotational variations exist between fans, wind noise due to the differences in frequencies will produce a buzzing sound. Fan rotation control via high-accuracy oscillator enables quiet operation," said the firm.
In this case, it is offering 8.192MHz ±1% operation at (25°C), spreading to +/-2% from -10 to 85°C, and to +/-2.5% (-40 to 85°C). The data sheet describes these as 'typical maximums and minimums'.
For Hall sensors, it has a hysteresis comparator with reference voltage and differential input switching, and for timing there are six 8bit timers, two of which can be added to make a 16bit timer.
Alongside this to control the motor is a 16.384MHz 16bit PWM with dead time.
This resolution, combined with oscillator accuracy said the firm, allows soft switching which reduces interference: "If the change in current during on/off switching in the motor coil current control is too large, irritating electromagnetic noise can result."
The core is Lapis' own risc 'U8′, with 4kbyte if flash in the ML610Q101, and 6kB in the ML610Q102 variant. Both have 256bytes of RAM.
"The U8 enables efficient command execution of one instruction per clock with parallel processing of future commands by a three layer pipeline," said Lapis. "Built-in on-chip debug function enables on-board software debugging and rewriting."
For analogue measurement, there is a six channel 10bit ADC.
Operation is over 30kHz to 8.4MHz, -40 to 85°C, and 2.7 to 5.5V, with SSOP16 and WQFN16 package options, the smallest being 2x2mm.
The internal logic supply regulator does not need an external capacitor, and noise testing is to the +/-30kV level in IEC61000-4-2.
"Carefully designed circuit and layout have enabled high noise immunity, making it possible to clear the ±30kV level, which exceeds the measurement limit of Class 4 [+/-15kV], the highest class defined by the IEC61000-4-2 standard established by the IEC. This makes the LSIs suitable for use in industrial equipment with stringent noise requirements."
Support includes a ML610Q102 reference board and software development environment. Applications are expected in home appliances, industrial equipment, single-phase fan motors, LED lights, and battery charge controllers.
Samples are available now, with mass SSOP16 production scheduled for September, and the WQFN16 version in October.