Liquid-cooled computer provides central heating in Huddersfield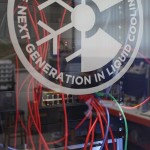 Iceotope, the Sheffield-based liquid cooling system developer, has installed liquid-cooled servers at the 3M Buckley Innovation Centre, owned by the University of Huddersfield.
A feature of the installation is that the coolers have been looped into the building's heating system and are actively heating the site via domestic radiators.
"Servers can get incredibly warm and while most servers will desperately try to remove and dump the heat using spinning fans, we endeavoured to create a solution that was able to re-use the waste heat while keeping the electronics cool," said Iceotope CEO, Peter Hopton.
The absence of cooling fans is also an advantage.
"HPC is often isolated from everyday operations, tucked away in a little sound proof room, but that scenario is far from ideal," said Dr Michael Wilson, technology director at the 3M BIC.
"We've been able to locate powerful computing right next to our users, without detriment to their working procedures. I'm sure our tenants will get quite a kick knowing that the servers are even helping heat the building.