Mains driver lets LEDs replace fluorescent tubes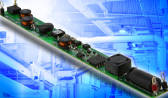 Power Integrations has issued reference designs for high-efficiency mains PSUs that fit within LED replacements for T8 fluorescent tubes.
Both are based around LNK460KG from the firm's LinkSwitch-PL chip family.
"The designs feature low component count and leverage simple magnetics and single-sided boards yielding densities of 14.2W/in³," said the firm. "Profile is only 8 mm: small enough to be mounted behind the LEDs in the T8 tube."
As the output terminals are inside the tube and cannot be accessed by users, the converters can be non-isolated.
"The LED tube market is moving to non-isolated drivers, which boost system efficiency and reduce the temperature of the driver board and components," Power Integrations' product marketing manager Andrew Smith. "These boards use approximately half the number of components of isolated designs and are typically 3-4% more efficient."
Both are 20W supplies.
Buck-boost design DER-345 takes 85-135Vac (47-63Hz) and delivers 235mA constant current into 80-90V with >87% peak efficiency, >0.98 power factor, and <10% A-THD.
Buck design DER-337 takes 195-265Vac (47-63Hz) and delivers 240mA constant current into 80-90V with >90% peak efficiency, >0.97 power factor, and <15% A-THD.