PCIM: 6.5kV module drives four IGBT gates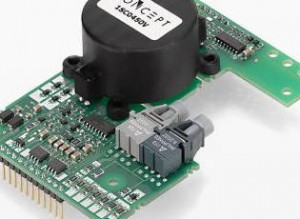 Swiss IGBT-driver manufacturer CT-Concept Technologie has announced a single-channel 6.5kV IGBT gate driver able to work with up to four IGBT modules in parallel.
Called 1SC0450V, the driver has a service life guarantee of over 15 years.
Drive current is +/-50A from a +15/-10V supply and power capability is 4W at 85°C.
Active clamping, short-circuit protection and under-voltage lock-out are included.
Isolation in the UL-compliant devices is in accordance with IEC 61800-5-1 and IEC 60664-1.
On the board is Concept's Scale-2 asic.
"Scale-2 integrates all functions: driving, monitoring, status acknowledgement, voltage supply dc-dc converters and isolation of all signals between the control and power sections," said Concept CEO Wolfgang Ademmer. "We also retain full design flexibility when considering protection strategies, interface circuitry and the partitioning of the power inverter."
At the same time, Concept announced a dual-channel 4.5kV IGBT-driver, also based around the Scale-2 asic, with transformer-based signal isolation rather than fibre-optic isolation.
"The 2SC0635T is the first commercially-available 4.5kV IGBT driver to feature transformer signal isolation and an integral DC/DC converter," said Ademmer.
Applications for both are expected in traction, high-voltage dc links and wind-power converters.

Tags:
DC-DC converters
,
short circuit
Related Tech News
Share your knowledge - Leave a comment