PCIM: Rogowski current probes go high speed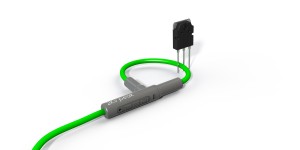 At PCIM in Nuremberg next week (20-22 May), Power Electronic Measurements will present for the first time its next-generation CWT current probes for high-speed and high power-density applications.
Clip-on Rogowski current probes provide a convenient and accurate means of measuring alternating currents.
These are wideband probes which use a new shielding technique designed to eliminate the effects of high field strengths in high power-density and high-speed switching circuits.
Also at PCIM, Vishay Intertechnology will be showing a -30V, 12 V VGS p-channel TrenchFET power mosfet which it claims offers the lowest on-resistance at – 4.5V and – 2.5V gate drives for a – 30V device in the 2x2mm package.
The SiA453EDJ has a specified on-resistance of 18.5m? (- 10V), 23.5m? (- 4.5V), 26.0m? (- 3.7V), and 37.7m? (- 2.5V), and provides built-in ESD protection of 4,000V.

Tags:
PCIM
Related Tech News
Share your knowledge - Leave a comment