PCIM: Vicor pushes power density to 334W/in3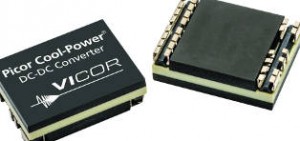 Vicor has raised power density in its isolated, zero voltage-switched (ZVS) dc-dc converters to 334W/in3, in its Picor-branded PI31xx series.
"The converters utilize an advanced ZVS architecture and planar magnetics to enable IC-like density," claimed the firm. "The 900kHz switching frequency reduces input filter and output capacitance requirements, reducing space constraints."
Aimed at 24V industrial, 28V aerospace/defense, or wide temperature applications, the surface-mount converters are 22×16.5×6.7mm and offer 2,250V input to output isolation.
Output voltage trimming is included, as is programmable soft-start and remote on/off. There is also a temperature monitor which outputs a voltage proportional to the internal temperature.
Protection includes: input over-voltage, under-voltage lockout, over-temperature, and output over-voltage protection. A constant current limit threshold protects against short circuit and overload, and all fault conditions have an auto-restart function.
If EMI filtering is required, a 25×12.5×4.6mm 'QuietPower' filter must be added.
"Example products include the QuietPower QPI-12 with >40dB common-mode and >70dB differential-mode attenuation for industrial applications," said the firm. "For aerospace-defense applications, the MQPI-18 offers >45dB and >75dB respectively."

Related Tech News
Share your knowledge - Leave a comment