Rohm gives mosfet the power handling of an IGBT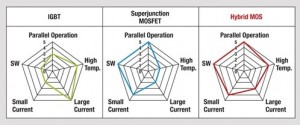 Rohm Semiconductor has developed a new design of high voltage transistor which it claims will reduce power consumption in power supplies and power factor correction (PFC) circuits.
This Hybrid MOS combines the device structures of superjunction mosfets and IGBTs. As a result it has the high-speed switching, low current characteristics of mosfets with the high voltage resistance properties of IGBTs.
A superjunction mosfet is typically used for low current and high-speed switching in the PFC circuit.
"However, for industrial equipment and the like requiring high-temperature, high current operation superjunction mosfets cannot be used. Instead, less efficient IGBTs are employed," said Rohm.
The company has developed a new structure that controls the backside of wafers and takes advantage of superjunction technology.
"This makes it possible to maintain the characteristics of superjunction mosfets at large currents and under higher temperatures," said Rohm.
Wafer backside control also has benefits during high temperature, large current operation. Performance equivalent to IGBTs is maintained, even when instantaneous large current flow is required.
Samples will be available in summer 2013.

Tags:
high voltage
,
power consumption
,
transistor
Related Tech News
Share your knowledge - Leave a comment