Shhh… 4A buck converter is quiet, and frugal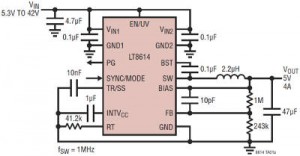 Aiming at automotive PSUs, Linear Technology has announced a 4A output, 3.4-42V input, synchronous step-down switching regulator which "reduces EMI/EMC emissions by more than 20dB, well below the CISPR 25 Class 5 limit," claims the firm.
It can switch at 200kHz to over 2MHz, is up to 96% efficient, and with burst mode can keep no-load quiescent current under 2.5µA "making it well suited for applications such as automotive always-on systems", said the firm. "Low ripple burst mode keeps output ripple below 10mVp-p," – with 12V in, 3.3V out.
Called LT8614, it has internal top and bottom power switches with the necessary boost diode, oscillator, control and logic circuitry integrated into a single die.
Output can be as low as 0.97V, and a minimum on-time of 30ns enables 2MHz constant frequency switching from a 16V input to a 1.0V output.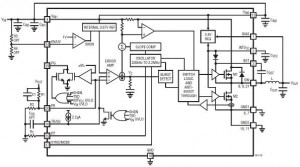 When the input gets really low, the chip maintains a 200mV (minimum) drop-out voltage 1A.
The package is a 3x4mm 20-lead QFN.
Other features include internal compensation, a power good flag, output soft-start/tracking and thermal protection.
An industrial temperature version (LT8614IUDC) is tested and guaranteed to operate from a -40°C to 125°C junction temperature. The automotive LT8614HUDC version extends this to 150°C.
The low-noise topology has been branded Silent Switcher.