Silicon anode Li-ion cells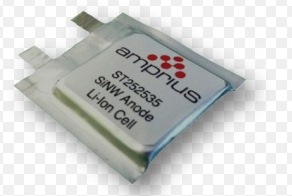 Sunnyvale-based Amprius has launched the first generation of its lithium-ion batteries, and has signed contracts with OEM customers to design custom batteries.
There are two product families, based on an 1,850mAh (580Wh/litre) cell and a 4,060mAh (600Wh/litre) cell.
"The company has also demonstrated greater than 650 and 700Wh/litre batteries with its second generation and third generation technology platforms. Amprius plans to begun pilot production of its second-generation batteries later this year," said the firm.
Amprius has silicon anode technology from Stanford University, and the firm has confirmed to Electronics Weekly that this is used in the first generation products.
Silicon anodes offer far greater capacity that traditional carbon anodes, but silicon swells to such an extent as it absorbs lithium ions that many attempts to use it in anodes have resulted in failure as the physical electrode structure self-destructs in a few charge cycles.
Amprius, and UK-based Nexeon, claim to have silicon structures that can survive repeated swelling without significant permanent damage.
"We continue to focus on silicon anode-based technologies," said Dr. Sun. "Amprius is also collaborating with Professor Yi Cui's lab at Stanford University and industrial partners worldwide to develop high energy density cathodes, advanced electrochemical systems, high performance separators, and innovative manufacturing processes."

Tags:
industrial partners
,
Stanford University
Related Tech News
Share your knowledge - Leave a comment