YouTube videos support power converter adoption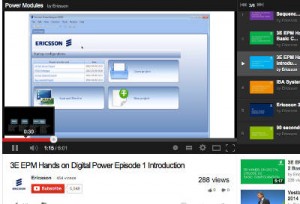 Ericsson has put together videos to promote its 3E PSU portfolio, showing potential adopters how to use the firm's Digital Power Designer on-line tool.
"With built-in digital control and monitoring, the 3E series includes isolated bus converters and digital point-of-load [POL]," said the firm. "The latest version of Digital Power Designer inclues a number of features that enable board power designers and system architects to simulate either simple or complex power schemes. Version 1.4 features loop compensation functionality that makes it easy to simulate output capacitors and output filtering networks such as PI filters, and to optimise loop response without hardware modification for the end application."
There is also the 3E Design Toolbox which includes five boards supporting power interface modules, bus converters, current sharing, single-in-line 3E POL regulators and a generic board accommodating through-hole 3E POL regulators. All the boards can be interconnected to reflect the end application and be configured and monitored via Power Designer software.

Related Tech News
Share your knowledge - Leave a comment