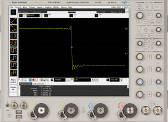 Called the Infiniium 90000 Q-Series, the top model has 63GHz on two channels and 33GHz on four channels.
There are 10 four-channel models ranging up from 20GHz, all of which are bandwidth upgradeable.
"These new scopes deliver the lowest noise [floor=4.4mV @ 50mV/div, 63GHz] and have the lowest jitter measurement floor [75fs] in the oscilloscope industry," claimed the firm. "The 33GHz model allows engineers to simultaneously trigger on and capture signals on all four channels with no compromise."
What is inside the unit has been branded RealEdge.
"RealEdge comprises a combination of new architectures, next-generation microcircuits and thin-film components, and advanced application of Agilent's indium phosphide semiconductor process," is all the firm would say.
Its existing InfiniiMax III probes offer 30GHz bandwidth with the instrument, and "N2807A PrecisionProbe Advanced software, helps engineers characterise and correct for cables to the full 63GHz", said Agilent.
Multiple Q-Series scopes can be paralleled for together to form a system of 40 channels or more, said the firm, and there are more than 40 compatible measurement-specific application packages, including jitter, triggering, measurement, analysis tools and compliance certification test suites.
Rise time is under 7ps.
Evaluation units have already been supplied.
"Based on early prototypes from Agilent that we were able to use for initial testing, our team progressed toward taking the next steps in high-data-rate coherent detection research," said Dr Peter Winzer of Bell Labs.