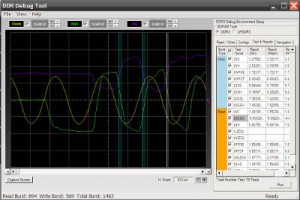 "The tool allows designers to navigate to areas of interest for further analysis and collect and analyse statistical data," said the firm. "The DDR3 and LPDDR3 debug tool runs on Infiniium 9000A, 90000A, 90000 X- and 90000 Q-Series oscilloscopes."
Aimed at engineers who work in the computer, server and mobile device industries, the tool is also intended for debugging DDR and includes statistical analysis on DDR3 and LPDDR3 timing measurements per the JEDEC standard.
Called U7231B-3NL, it works on saved waveform files from the oscilloscopes, locating the start and end of read and write bursts found in the trace. "Engineers can then navigate to problem areas to perform further analysis and margin tests," said Agilent.