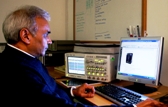 The lab has been set up in the Innovation Centre in Bath to help young companies avoid the need for high capital outlay early in the design cycle.
"The large capital outlay and the high cost of test equipment during product development cycles can be prohibitive to early stage start-up businesses," said Simon Bond, director of the Innovation Centre and CEO of SiliconSouthWest.
"SiliconSouthWest Labs is targeted at meeting the test requirements and reducing the cost of testing for these companies by offering an affordable, flexible and fully equipped facility," said Bond.
The lab is based in Bath as the SouthWest is home to the largest cluster of silicon designers in Europe, and has produced many start-ups out of established companies in the region such as Inmos, Plessey and STMicroelectronics.
These have become established electronics companies such as picoChip, Icera, Ubiquisys and XMOS Semiconductor with their own test equipment, so the lab is aimed at the coming generation of early stage start-ups such as Blu Wireless, Xintronix and GLO Photonics.
The Centre is also the location for seminars, on a range of topics, and brings together very early stage startups with more established companies for possible collaboration as well as linking them with potential experienced industry executives as mentors and with business angel funding, venture capital and patent advisors.
"Over the years we have been running networking events and conferences in the SouthWest we have seen the need that young companies for test equipment in the early stages of their developments," said Bond. "As we are all about helping these companies move faster and get to market quicker, we had the opportunity to set up a Test Lab to assist them."
The lab provides both RF and networks testing to cover a range of start-ups.
The RF section is aimed at wireless digital and analogue performance test on protocols such as WiFi, GSM, Bluetooth and RFID, while the network test offers an extensive list of equipment for the emulation of both copper and optical networks on a 40G testbed. This test bed can be optimised to provide up to 1000 ports, suitable for wide area networks, with a typical test station consisting of UNIX/LINUX servers, routers and switches.
The test bed facility can be configured to offer comprehensive testing and development of a range of functions such as differing service levels, Multiplexing, Virtual LAN, Inter Domain, Protocols and Custom Billing Services.
The equipment can be configured to individual company requirements and additional specialist equipment can be included through SiliconSouthWest's partners which include broad range test equipment supplier Microlease, which is also providing calibration services, and equipment makers Agilent Technologies and Rohde and Schwarz.
These companies are also backing the SiliconSouthWest Wireless2.0 conference in July in Bristol that brings together wireless startups with key executives from global companies such as Sony Ericsson and Forward Concepts and university researchers on the latest opportunities in wireless technology.