Pico PC oscilloscopes get much smaller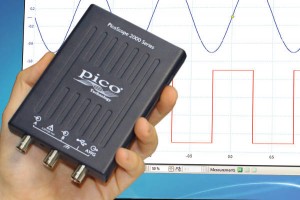 Pico Technology has cut the size of its 2000 series of 200MHz PC oscilloscopes by almost 80%, to around the size of a passport, in a project that started as a challenge between engineers.
"They are as thin as can they can possibly be made and still have BNC connectors," Pico MD Alan Tong told Electronics Weekly.

Pico's scopes connect to a PC or laptop through USB. The scope box handles signal acquisition, triggering, primary processing and primary storage. Running software called PicoScope, the laptop takes care of display, user controls, secondary storage, and secondary signal processing. There are six scope families in the company's range (see below), all designed and made in the UK.
Until now, the 2000 series has been in two different sized enclosures – the larger case for the faster members of the family. Now all versions are in the new case, which is smaller than either of the originals, except the mixed-signal version which needs extra room for its logic connector.
The shrink project started unusually: as a self-imposed challenge between a handful of engineers during the firm's weekly blue-sky time.
"For the last 8-10 years, our engineers have had half a day to work on anything they want so long as it is vaguely connected to being useful to the company: learning French, hardware engineers learning software, all sorts of things," said Tong. "A group decided to see how small they could make an oscilloscope without compromising on performance. They kept the project secret until they had a working prototype complete with enclosure. When I saw it I was immediately sold on the idea, it was a product I wanted to own myself."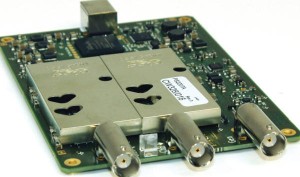 Squeezing analogue circuitry can help performance as there is less area to pick up noise, but eventually smaller does not equate to better. "We have pretty strict guidelines on parameters like cross-talk, overshoot, and gain flatness. Cross-talk gets worse as channels get closer together," said Tong.
Electronically, the design is based on the original 2000 series.
"There are some changes to the front-end for fewer parts, and some parts are in smaller-sized packages – there were a lot of BGAs already," said Tong. "The screening cans were quite challenging – to make them thin and make them work, and we found someone who would make a different style of BNC – that was the only real custom part."
Mechanically, the enclosure had to hug the components as closely as possible. Ideas could be tried quickly because Pico has its own 3D printer.
"They were fanatical about shaving height off the product," said Tong. "Normally the whole thing would take months and costs thousands. With the 3d printer, we set it going over night and it gave us a descent-looking enclosure, and we sent out for more expensive prototypes in later stages. There were 12 prototypes eventually, some transparent to make sure no space was being wasted."
Overall, the engineers "managed to hit the same performance speed, and gained slightly in memory, noise and cross-talk," he added.
Now called the 2000A family, the enclosure is 19mm thick, with a 92x142mm footprint (plus BNC connectors), and weighs 200g.
Full bandwidth crosstalk is better than 200:1 (channels set to equal gain), or 400:1 for the faster members of the family. Noise is <150μVrms (+/-50mV range), or <200μVrms on faster members. Bandwidth flatness is +0.3dB -3dB from dc to full bandwidth.
Two important input figures are <-50dB harmonic distortion and >52dB SFDR (spurious free dynamic range) – both at full-scale and 100kHz.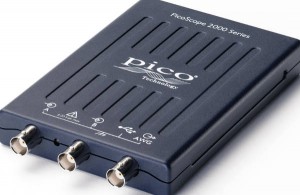 Do the new versions cost more to make?
"Cost is neutral. We have gone from 2000 to 2000A for the same price, so there is no problem for distributors," said Tong.
And, is it so small it slides around on the bench?
"No, there are some descent rubber grips underneath, and it is the same weight. It's so small, I now carry an oscilloscope in my laptop bag all the time."
Maximum real-time sampling is 1Gsample/s and, for repetitive signals, equivalent-time sampling can boost effective sampling rate to 10Gsample/s. Up to 48ksample of segmented memory is available for rapid capture.
There is adjustable analogue offset over the full input range, and a built-in signal source: either a sine-square-triangle function generator with programmable sweep, or a 12bit 20Msample/s arbitrary waveform generator.
USB streaming is up to 1Msample/s, for waveform captures up to 100 million samples, and all scopes support configurable length pre-trigger and post-trigger capture.
Standard features including an FFT spectrum analyser, math channels, automatic measurements, colour persistence display mode, mask limit testing and serial decoding (CAN bus, LIN bus, FlexRay, SPI, I2C, I2S, UART).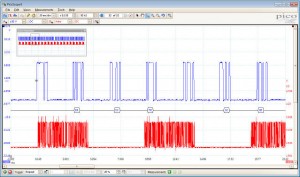 Triggering is all-digital, based on post converter bits rather than analogue comparators. "This reduces trigger errors and allows our oscilloscopes to trigger small signals, even at the full bandwidth," claims the firm. "Digital triggering, together with segmented memory, allows the capture of events that happen in rapid sequence. At the fastest time-base, triggering can capture a new waveform every 2µs until the buffer is full."
A free SDK (software development kit) with example code is available for customers writing their own applications in C, Visual Basic, National Instruments' LabView or MathWorks' Matlab.
Including hardware, software, and a 5 year warranty, prices range from £159 to 599 ($262-988, €192-725) depending on bandwidth and signal generator type.
Pico Technology is based in St. Neots, Cambridgeshire. It has six ranges of PC oscilloscpoes, many of which are USB-powered. Company MD Alan Tong unravels them thus:
2000 – Physically small, and now even smaller
3000 – Deep memory
4000 – High resolution
5000 – Flexible resolution (USB-powered for two channels, separate supply for four)
6000 – High performance, high specification (mains power only)
9000 – Sampling

Related posts