5Gsample/s PC scope offers 500MHz bandwidth on four channels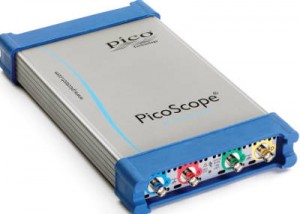 UK-based Pico Technology has introduced a USB scope that samples in real time at 5Gsample/s.
Called the PicoScope 6404D, is offers up to 500MHz bandwidth (1.25Gsample/s) on four channels simultaneously, and 2Gsample of buffer memory shared between the channels. Rise time (10-90%) is 700ps on all vertical ranges.
It is part of the PicoScope 6000 series, all of which have 5Gsample/s acquisition, which includes scopes down to 250MHz bandwidth and 256Msample memory.
On-board hardware acceleration and USB 3.0 interfacing are used to increase screen update rate.
"Dedicated hardware inside the oscilloscope processes multiple streams of data in parallel to construct the waveform that will be displayed on the screen. This is done far faster than any PC processor could manage, and together with USB 3.0 SuperSpeed data transfer eliminates any bottlenecks between the oscilloscope and the PC," said the firm. "For example, the scope may be set to capture 100 million samples but the PicoScope display window may be only 1,000 pixels wide. In this case, the scope intelligently compresses the data into 1,000 blocks of 100,000 samples each. Unlike simple decimation, which throws away most of the data, PicoScope hardware acceleration guarantees that you see any high-frequency details such as narrow glitches, even when the display is zoomed out."
All models include an integrated function generator or arbitrary waveform generator, triggering, automatic measurements with statistics, an FFT spectrum analysis mode, waveform maths, mask limit testing, and serial decoding for standards including I2C, SPI, UART, CAN, LIN and FlexRay.
Spectrum analysis is available up to the analogue bandwidth of the channel.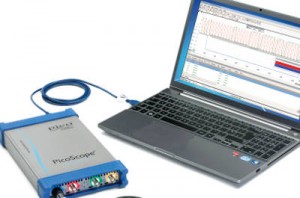 "The PicoScope 6000 Series is the highest-performance USB oscilloscope, with deeper buffer memory as standard than any other oscilloscope, and is capable of detailed circuit analysis. We have provided a suite of debugging tools, included as standard with the scopes, so that engineers who are developing complex electronic systems will find all the functions they need," said company MD Alan Tong.
Prices start at £1,995 (€2,414, $3,292) for the 250MHz model with a function generator, through to £4,495 (€5,439, $7,417) for 500MHz with arbitrary waveform generator and 2Gsample memory.
Four probes are included, either 500MHz TA133s, or 350MHz TA150s.
Pico designs and makes all of its oscilloscopes in the UK.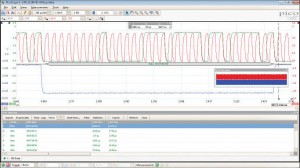 Multi-lingual PC software is supplied with each instrument
For faster repetitive waveforms, the firm recently introduced the 20GHz PicoScope 9300 sampling oscilloscope series.