Anritsu gets carrier aggregation LTE-A test system validated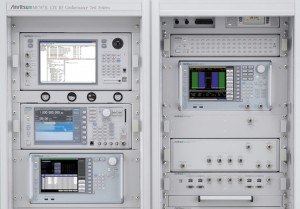 Anritsu says its Protocol Conformance Test system for Rel-10 carrier aggregation, an important test function for LTE Advanced networks, has been validated by ced that industry testing standards body the GCF
LTE Advanced, the enhanced higher speed 4G mobile standard, uses carrier aggregation to support higher data rates. The carrier aggregation function uses several frequency bands as a single band to speed up both peak and average communications speeds, achieving 300Mbit/s download speeds, and with the potential to reach 1Gbit/s in the future.
See: What is LTE-Advanced and how will it be tested?
Carrier aggregation is being used to address bandwidth limitations for streaming large data volumes, found when narrow frequency bands are shared by too many users.
Network operators are deploying LTE services using carrier aggregation in South Korea and the US, and other countries will begin implementing the technology soon.
Development of commercial mobile terminals for new LTE Advanced networks requires objective verification that devices satisfy the LTE Advanced standards. This is achieved by running RF/RRM Conformance and Protocol Conformance tests using systems approved for such testing by the GCF and (for North America) the PTCRB test standards body.
Anritsu's ME7873L RF Conformance Test System and ME7834 Protocol Conformance Test System added support for carrier aggregation earlier in 2013. Now, both have been approved for use in conformance testing by both the GCF and the PTCRB.
Anritsu has also received the most PTCRB test case approvals for Band2_17 and Band4_17 as used in North America.