Getting the most out of your oscilloscope investment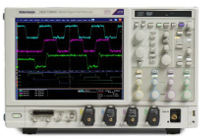 Oscilloscopes are one of the fundamental items of equipment that any test engineer will need to have frequent access too. In recent years the leading players in this sector have been engaged in a pitched battle to outdo each other through the development of high value, state-of-the-art-units (based on the latest semiconductor technology), which are capable of perpetually attaining higher bandwidth benchmarks.
However, competing against one another solely from the bragging rights as to who has the fastest model is in reality proving to be something of a distraction from the demands of mainstream customers.
Analyst firm Frost & Sullivan predicts that in 2014 the global oscilloscope market will tally up $1.513 billion worth of revenue. Though high end scopes make up a relatively healthy proportion of this total, it is the medium to low end scopes that constitute a far bigger share. It is therefore critical for oscilloscope manufacturers to ensure that they adequately serve the volume market and don't simply focus on the prestige.
For the majority of the test engineering community, equipment manufacturers continuously pushing the performance envelope is not something that tends to concern them too greatly. From their perspective it is not really about this. They have to deal with harsh commercial realities that leave them with only limited financial resources to make use of.
It is much more important, therefore, that they can get the performance levels and feature sets they need for the particular job they have to do, while still staying in budget – anything above and beyond that is basically just a waste. Also the funding restrictions they are subject to dictate that replacement of existing kit is to be avoided whenever possible. Certain oscilloscope manufacturers are now responding to this by offering a broadening range of optimised test software packages to support their standard product lines.
By installing such software onto an oscilloscope, it is possible upgrade it so that it can become a highly focussed analysis tool that is much better able to meet the requirements of specific test tasks that need to be undertaken. It means that the engineer is furnished with equipment possessing the performance and functionality necessary to carry out investigation of high speed serial data buses, for example, so that compliance with standards like SATA, USB 3.0, Wireless USB, HDMI and DisplayPort can be verified.
In addition to renting out an extensive range of oscilloscopes, test sourcing specialist Livingston is now in a position to supply a comprehensive portfolio of different test software packages too (from well-known brands as Agilent, Yokogawa and Rohde & Schwartz).
It can provide engineers with temporary access to special, software coded, test options which can be installed after delivery. Engineers thus have the capacity to accomplish more with their rented equipment, taking advantage of enhanced test capabilities and greater operational flexibility.
Continued progress in the specs of oscilloscopes situated at the upper echelon will remain vital to the test and measurement industry so that more pioneering applications in areas like supercomputing and high data rate communication can be fully supported. It is innovation of this kind that will push things forward, with products further down the value chain benefiting over time – after all what are currently regarded as cutting-edge speeds will simply be the norm in five or ten years from now.
Oscilloscope manufacturers, along with their distribution and rental partners need to be fully aware of what the average engineer wants and what they can afford to pay for it. With the advent of a wider spectrum of different software solutions to assist them in this goal, it is likely that satisfying their needs will no longer be considered only in terms of hardware.
Reinier Treur, Livingston