Phase noise down in Aeroflex analogue/digital radio tester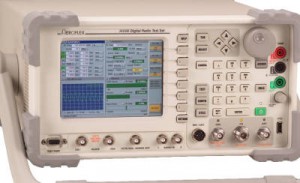 Aeroflex has cut phase noise in its latest analogue and digital radio tester, with SSB noise in its internal RF signal generator specified at -110dBc/Hz (10kHz offset).
"This level of performance is achieved at an offset from the carrier that is significantly less than the industry standard for this type of specification, which is typically 20 kHz," said the firm.
Dubbed 3920B, "to achieve such low phase noise specifications close to the carrier, makes it an ideal test solution for today's digital narrowband or analogue receiver testing where narrowband phase noise is critical", said Aeroflex.
It will test: analogue AM, analogue FM, digital P25, P25 phase II, DMR, NXDN, dPMR, TETRA and TEDS radios, and replaces all former versions of the firm's 3900 Series, including the 3901, 3902, and 3920.
"Today's narrowband digital radios employ very sensitive and high performance receivers, routinely providing sensitivity levels better than -119dBm. It is important to understand that these receivers can be adversely impacted by the incidental phase noise of the generator used to test sensitivity or selectivity," said Rob Barden, director of product marketing at Aeroflex. "Technologies such as P25 phase II employ phase modulation [H-CPM] where any added phase noise can cause erroneous measurements, especially when determining the digital sensitivity of the receiver using bit error rate [BER] calculations."
Automatic testing is included for radios including: Motorola's APX, XTS, and XTL series, as well as Harris, EF Johnson, Relm/BK and Kenwood radios.