Self-powered panel meter offers true RMS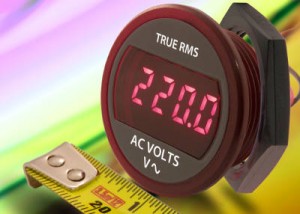 Murata has introduced a true RMS panel meter that mounts through a 30.5mm hole.
Called DMR20-1-ACV, the four digit meter can measure the true RMS value of its input from 85 to 264Vac and 47-63Hz, with 0.1V resolution and +/-0.2Vmax error (+/-0.1Vtyp).
Completely self-contained, the two-wire meter requires no additional components and consumes a maximum of 30mA from 250Vac, and 15mA from 120V.
"It is capable of accurately measuring quasi-sine AC source such as modified, modified 2-step and modified 3-step sine wave in addition to conventional sine, triangle and square wave inputs," said the firm.  "The voltmeter fits an industry standard 'oiltight' 30 and 30.5 mm round panel cutout."
Digits are 7.6mm high, and max temperature drift is +/-0.05V/°C (-25 to +60°C)
The case is polycarbonate and supplied with an EPDM rubber gasket and plastic hex nut "that aid protection to IP67/NEMA6 specification for water ingress", said Murata. It "is ideal for measuring primary line power, power distribution units and backup power generation sources".
Round knock-out punch tooling can be ordered with the DMR20.
Thee is also a 3D CAD model of the DMR20.