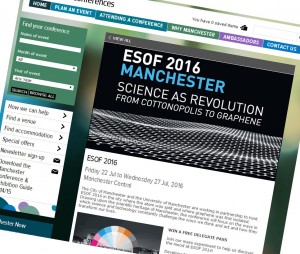 The title will be held for two years as Manchester builds towards hosting "Europe's largest general scientific conference", ESOF – the EuroScience Open Forum – in the summer of 2016.
It is a biennial, pan-European convention dedicated to scientific research and innovation, which has just completed its 2014 programme in the city of Copenhagen.
According to the university, the 2016 event is expected to bring 4,500 delegates to Manchester and generate approximately £8.3m for the economy.
"We are very much looking forward to welcoming Europe's greatest scientific gathering," said Professor Dame Nancy Rothwell. "This will bring to Manchester outstanding scientists and technology business leaders from all over the world and will open our doors to those at the very first stages of a scientific career."

"The University of Manchester is proud of its scientific heritage but ESOF will help us to look to the future and the ways in which breakthroughs in research can revolutionise the economy and make a real impact on the challenges facing our society."
The association behind ESOF is EuroScience, a European organisation of scientists and all those taking an interest in scientific developments.
See also: Manchester hosts graphene congress
See also: Graphene manufacturer attracted to Manchester by university