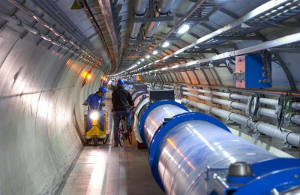 It's a two year project, reports the university, and the scientists will build sensors incorporating high voltage complementary metal–oxide–semiconductor (HV-CMOS) technology to produce cheaper and higher performance monitors which will be used to detect particles.
"If successful, the sensors we will develop may find application in planned upgrades of the innermost parts of the experiments at the LHC or at the International Linear Collider project, proposed in Japan," said project lead, Dr Joost Vossebeld. "We are also very keen to exploit this new technology to drive a wide range of applications beyond our field."
Liverpool University writes:
Liverpool – the lead university – has already developed silicon sensors for particle detection in the Liverpool Semi-Conductor Centre and two of the experiments at the Large Hadron Collider (LHC) at CERN, which were crucial in helping in the discovery of the Higgs particle. The team also has a range of projects focused on finding applications for technologies outside of pure physics, such as medical applications.
The other universities in the consortium? Imperial College London and the University of Manchester.
The project is scheduled to last two years and is worth £450,000. Funding comes from the Science & Technology Facilities Council and the partner institutions.
Image: Cern