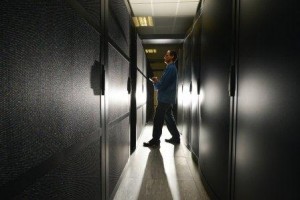 Situated at the University of Edinburgh's Advanced Computing Facility at Easter Bush, the ARCHER supercomputer is officially open for science, following a ceremony at the National Museum of Scotland today, writes Steve Bush.
Supplied by Cray and using the firm's XC30 hardware with Intel Xeon E5-2600v2 processors, it has up to three and a half times the speed of the HECTOR supercomputer system, which it replaces. Archer's memory includes nearly five petabytes of capacity and 100 gigabyte/s of applications performance.
The £43 million ARCHER (Academic Research Computing High End Resource) system will provide high performance computing support for research and industry projects in the UK – helping in areas as diverse as "simulating the Earth's climate, calculating the airflow around aircraft, and designing novel materials", said the EPSRC (Engineering and Physical Sciences Research Council), which funded the project. "The system brings together the UK's most powerful computer with one of its largest data centres. This creates a facility to support big data applications, which has been identified by the UK Government as one of its 'eight great technologies'."
The building housing ARCHER is among the greenest computer centres in the world, claims EPSRC, "with cooling costs of only eight pence for every pound spent on power".
Systems support for the machine will be provided by the Edinburgh Parallel Computing Centre (EPCC) and Daresbury Laboratory. Science, user and engineering support will also be provided by EPCC.
"The University of Edinburgh has for many decades been a pioneer in high performance computing. Now that big data is reaching into an even greater range of areas we are delighted to have the ARCHER facility and its support at Edinburgh. Together with the UK Research Data Facility, we and the Research Councils have a facility unique in the UK, combining some of the world's most powerful computers with a vast data store and analysis facilities. We will work with the Research Councils and UK researchers to generate world-leading research and business impact," said Professor Sir Timothy O'Shea, Principal of the University of Edinburgh.
According to the November TOP500 supercomputer list, Archer gets the UK to number 19 at 1.37Pflops. In the same list, Switzerland's Cray XC30 scored 6.27Pflops, getting it 6th place. Germany France and Italy also score ahead of the UK – Germany twice.
Steve Bush