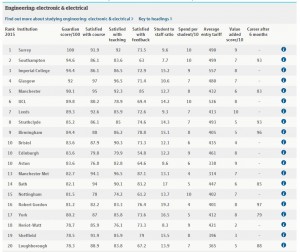 Caveat emptor with all such comparison tables, of course, but The Guardian table is supposedly based on teaching standards, academic progress and employability rates.
For the record, Southampton is in second place and Imperial College third.
"I'm absolutely thrilled by this outcome, which is a reflection of the constant endeavour of our hard-working academic staff to find better and better teaching methods and new ways to provide formative feedback to students," said Professor Josef Kittler, Head of the Department of Electronic Engineering at Surry.

"We're not only aiming for excellence in teaching, but also introducing novel formats of delivering our programmes such as the MSc Euromasters, the only two-year MSc programme in Electronic Engineering in the UK, which offers students an opportunity to enhance their learning experience by spending up to six months in industry."
The university is kind enough to also highlight its 2013 Elektra Award for University department of the year.