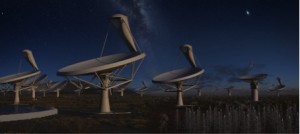 It is part of the Science Data Processor (SDP) work package consortium.
"She also has two post-doctoral research assistants, funded by the UK government, working on the project in Southampton, as well as leading a larger distributed team in the UK, South Africa, Australia and New Zealand," said Southampton University.
The SKA will have antennas spread across Australia and Africa, with a total collecting area of 1km2.
"SKA project will stretch technology to its limits," said Scaife.
According to the University:
"SKA will produce around 20 times the current global traffic of the internet in its internal telecommunications system. To play back a single day's worth of SKA data on an MP3 player would take two million years."
The Science and Technology Facilities Council (STFC) will manage the UK role in the project. This week it confirmed £19m funding over the next four years to support the design of the SKA project. The Government has announced "further funding of £100m for the SKA project as it moves towards construction from 2017", said Southampton. It is not clear if this funding is all new money.
It was revealed last month that Isle of Wight company REFL has a contract with the University of Oxford to study the design of an FPGA-based signal processing architecture for the channelisation and beam forming necessary for the Low Frequency Aperture Array (LFAA), which sits alongside the iconic SKA high-frequency dishes.
Steve Bush