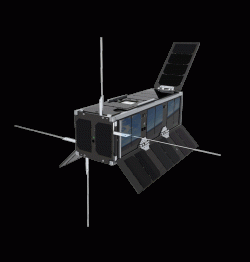 TOPCAT from the University of Bath and the Bath Alumni Fund was chosen among others, to help measure space weather conditions just beyond the earth's atmosphere (between 600 km and 20,000 km from the surface of the earth)…
Well, UKube-1 has been successfully placed into orbit, earlier this month, on a Russian rocket that launched from Baikonur, Kazakhstan.
The CubeSat measures just 30cm by 10cm by 10cm and weighs 3.5kg.
The hope is that measuring electron density will help anticipate, and mitigate, the effects of space weather.
"Solar storms have an impact on engineered systems, particularly on the Global Positioning System, or GPS," said Professor Cathryn Mitchell from the University of Bath's Department of Electronic & Electrical Engineering.

"Navigation, the national grid, internet banking, mobile phones, TV and aircraft landing systems are just a handful of applications that now rely on GPS. As a result, understanding the impact of solar storms on GPS accuracy is increasingly essential."
The TOPCAT device was developed by PhD student Talini Pinto Jayawardena, assisted by Professor Cathryn Mitchell and Doctor Robert Watson.
Read more details on the Bath University website »
Read more on the UK Space Agency website »
httpv://youtu.be/XwkpOoxyiWc