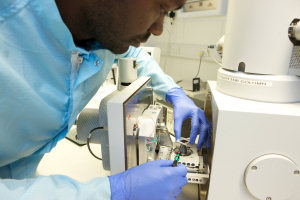 Versarien has bought 85% of the shares in the start-up company that offers a range of graphene services, from materials supply and characterisation work, through to consulting and proof-of-principle work on applications and processes.
"We are very excited by this partnership," said Branson Belle, CTO of 2-DTech.

"Versarien brings real-life experience in process scale-up and manufacturing to complement 2-DTech's understanding of the nature and quality threshold requirements for various applications of graphene, which is a rare skill set. This will accelerate 2-DTech's business success."
For the university's part, Clive Rowland, CEO of the University's Innovation Group (UMI3) commented:
"Our general model for technology transfer is to involve industrial participants as soon as we have developed a business proposition and gained some market recognition, in order to bring in relevant domain knowledge and marketing expertise, whether we do so through research collaborations, licensing, and/or start-up companies. This tailors our deal flow to the market and leads to quicker uptake by firms. Therefore I am delighted that we have been able to agree this arrangement with Versarien which takes 2-DTech to a new level and allows the University to share in the future success of the business by remaining a shareholder and also receiving a royalty on sales."
According to the university, Versarien will also set up an intellectual property and research collaboration with Manchster, starting with a £300,000 investment in two projects related to graphene composites.
Image: Dr Belle working with graphene at the 2-DTech labs