Called the ADSP-CM41x series, the monolithically integrated cores are a Cortex-M4 and a Cortex-M0.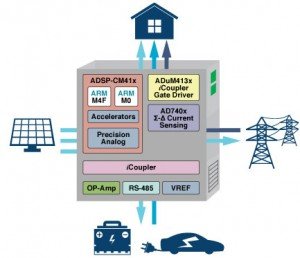 "There are two controllers to meet safety regulations, one is there to put solar panel in safe state," ADI technical director Uwe Brockelmann told Electronics Weekly. "We spoke to TUV and asked if they needed to be on separate silicon, and they said no."
The 100MHz M0 is the house-keeping processor with TUV accreditaion, and the 240MHz M4 handles power conversion processing. "It's fast processing to go along with GaN and SiC switching," said Brockelmann, and we have also added pure hardware spark detection DSP, and fast over-current protection."
There is a power supply reference design, which also includes AD740x sigma delta ADCs and ADuM413x isolated gate drivers.
Applications are also expected in energy storage and electric vehicle infrastructure.
See also: Dual core chip aims at high-rel solar power conversion
See also: Predictions 2016: solar cells target 30% efficiency – Imec
See also: Thin-film solar panels designed for cloudy northern skies
Product
Availability
Packaging
ADSP-CM41x
Samples
210 Ball BGA
76 Lead LQFP
ADSP-CM40x
Production
212 Ball BGA
120 Lead LQFP
176 Lead LQFP