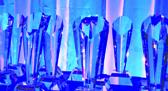 Now established as the best promotional platform to celebrate the achievements of individuals and companies across Europe, this year's awards will present best-practice in key areas including, innovation, sales growth and employee motivation.
This year the awards will focus on the achievements of new and emerging engineering talent across Europe.
This is the life-blood on the industry and will be honoured alongside a showcase of the best new products, technology innovation and company performances of the year.  
An independent panel of judges will assess the quality of all entries and the winners will be honoured at a Gala Dinner and Christmas Party which takes place on Wednesday 14 December 2011 at the new and prestigious Park Plaza Westminster Bridge London Hotel.
Key Dates
Closing Date – 1st July 2011
Shortlist Announcement – 7th September 2011
Elektra Awards Ceremony & Christmas Party – 14th December 2011
www.electronicsweekly.com/elektra2011
To Enter
The entry process is straight-forward and designed to be as speedy as possible.
Elektra 2011 Entry Email should include:
• Name of entering company/university/individual
• Product name and part number (for Product Award Categories)
• A contact name at the company or representing agency
• Supporting statement of no more than 500 words, which should explain why you believe this entry is worthy of an award in this category. It should only highlight factors which differentiate the performance of the product/company/university/individual.
Email Entries to
Richard Wilson
Editor, Electronics Weekly
richard.wilson@rbi.co.uk
Award Categories
Engineers of the Future
Educational Support Award 
Rising Star New Engineer of the Year
University Department of the Year
(Sponsored by RS Components)
Business Awards
Design Team of the Year
Distributor of the Year
Environmental Award
Manufacturer Export Award
New Company of the Year
Product Technologies
Design Tools and Development Software Award
Embedded System Product of the Year
Passive & Electromechanical Product of the Year
Power Systems Product of the Year
Renewable Energy Design Award
Semiconductor Product of the Year – Analogue
Semiconductor Product of the Year – Digital
(Sponsored by Rohde & Schwarz)
Solid-State Lighting Application Award
Test Product of the Year
(Sponsored by Neesham Public Relations)
Product Innovation Award – Readers' Choice
(Sponsored by Avnet)
EnOcean
ECT 310 DC/DC converter enables energy harvesting wireless sensors and actuators to operate through heat.
Microsoft
Windows Phone 7 mobile operating system aimed at consumer smartphones.
Nintendo
3DS games console with 3D graphics without the need for special glasses.
Panasonic
VT20 series 1920×1080 full-HD 3D plasma television with 600Hz sub-field drive technology.
 
Toumaz
The Sensium Life Platform for the development of medical systems and devices for non-intrusive wireless monitoring of vital signs such as heart rate and ECG.

To vote