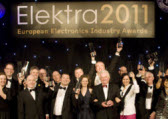 Last night saw the Elektra 2011 European Electronics Industry Awards at the glamorous Park Plaza Hotel in London, and our capable host this year was the comedian Greg Davies with an enthusiastic audience representing all sectors of the industry.
Congratulations to all of our winners!
Business Awards
Design Team of the Year, sponsored by Farnell:
ByteSnap Design
Distributor of the Year, sponsored by IC Resources:
RS Components
Environmental Award, sponsored by National Instruments:
Axiom Manufacturing Services – Programme to cut carbon emissions by 40%
Manufacturer Export Award, sponsored by Harwin:
IQE
New Company of the Year, sponsored by International Rectifier:
United EMS
Engineers of the Future
 
Rising Star – New Engineer of the Year, sponsored by element14:
Adrian Carter, Pico Technology
Educational Support Award, sponsored by IC Group:
The MathWorks – Funds graduate fellowships and studentships at 12 universities
University Department of the Year, sponsored by RS:
University of Cambridge
Product Technologies
Design Tools and Development Software Award, sponsored by theKnode:
Microchip Technology – MPLAB X open source integrated development environment
Embedded System Product of the Year, sponsored by Redline:
Xilinx – Zynq-7000 extensible processing platform
Passive & Electromechanical Product of Year, sponsored by Caltest and LeCroy:
Harting – Han-Yellock connector system
Power System Product of the Year, sponsored by Austin Fraser:
TDK-Lambda – EFE400M digitally-controlled medical power supply
Renewable Energy Design Award, sponsored by MSC Gleichmann:
National Instruments – cRIO modules used by Whitfield Solar
Semiconductor Product of the Year – Analogue, sponsored by Mouser:
austriamicrosystems – AS540x 3D Hall magnetic encoder
Semiconductor Product of the Year – Digital, sponsored by Rohde & Schwarz:
Altera – 28nm FPGA product ranges
Solid-State Lighting Application Award, sponsored by Anglia:
Analog Devices – ADP8866 programmable LED driver
Test Product of the Year, sponsored by Neesham:
Tektronix – MDO4000 series mixed domain oscilloscope
Product Innovation Award, Readers' Choice, sponsored by Avnet:
EnOcean – ECT 310 voltage converter energy harvesting for wireless sensors
Company of the Year, sponsored by Amplicon:
RS Components
Life Time Acheivement Award:
Dick Skipworth
Download your FREE photos from the Elektra Awards 2011 Ceremony, courtesy of Pinnacle >>
To get your high resolution pictures simply email lewis(at)pinnaclemarcom.com indicating the reference numbers you require.