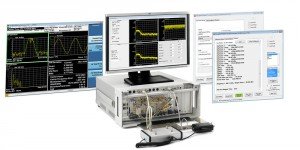 For example, NI's VirtualBench is a software-based multiple instrument which combines a mixed-signal oscilloscope, function generator, digital multimeter, programmable DC power supply and digital I/O.
The latest version offers a 350MHz bandwidth, four analogue channels and Ethernet connectivity.
The user interface for VirtualBench is through free upgradable software applications that run on PCs or iPads. This way the development tools take advantage of consumer-style multi-touch displays, multicore processors and ubiquitous wireless interfaces.
Embedded World 2016: Get the full Electronics Weekly guide »
The platform approach has changed the economics of application-specific test and development hardware.
A recent example from Keysight Technologies is a PXI-based radio test reference system with an audio library for military and public safety radios.
According to Keysight, the PXI modular test platform which uses PC-based data processing has the flexibility and performance to test the latest multiple channel and wide bandwidth radio systems, while also supporting legacy analogue as well as digital radio standards.
In addition, the reference system supports standards-based signal creation and analysis for newer communications standards, such as LTE for next generation public safety radios. It also generates and analyses custom waveforms up to 27GHz.
Hardware options range from the entry-level M9290A CXA-m signal analyser to the high performance M9393A performance vector signal analyser.
Software options include Keysight's X-Series measurement applications, supporting a common set of standard measurements for AM, FM and digital radio, such as APCO P25 and TETRA signals.