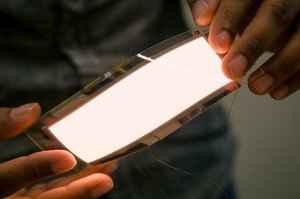 Those involved are: Audi, Centre for Process Innovation (CPI), VTT, Fraunhofer, M-Solv, FlexEnable, DuPont Teijin Films, Brabant Development Agency (BOM), REHAU, Emdedesign, Pilkington, Coatema Coating Machinery and AMIRES.
The project titled 'PI-SCALE' aims to create a European-wide pilot line which will enable companies of all sizes to quickly and cost effectively test and scale up their flexible OLED lighting concepts and turn them into market ready products. The project is supported by the European Commission through the Photonics Public Private Partnership with a contribution of €14 million.
Flexible OLEDs have the potential to be integrated into formed parts or bonded onto curved surfaces, and the commercialisation of this technology will open up a host of exciting design opportunities to create new value adding lighting products in many different application areas, such as architecture, automotive, aerospace and consumer electronics.
PI-SCALE will offer world class capability and services in the pilot production of customised flexible OLEDs and initially focuses on product streams in the areas of automotive, designer luminaires and aeronautics applications.