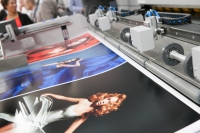 Three halls will contain digital print technology including equipment, consumables, software and applications from international and local manufacturers.
This year the exhibition will include it largest showing of digital signage technologies and products. The European Sign Expo of non-printed signage products and software for channel lettering, illuminated LED and neon displays, and architectural/dimensional signage.
Roz McGuinness, divisional director, FESPA, writes:
"This year marks our tenth anniversary of the digital show, and it has gone from strength to strength, providing visitors the tools they need to become print superheroes, and ultimately improve their business profits."
Two halls of the digital printing expo will show textile print dedicated, garment décor and soft signage solutions.
Printeriors is a dedicated showcase for printed interior décor takes the form of the 'Print Hotel', enabling printers and interior designers to visualise the latest trends to inspire and engage with digital print. Room sets include a bar, retail space, meeting room, lounge, bathroom, reception, café and even the interiors of an elevator.
Speakers at the Digital Textile Conference include Basso & Brooke, pioneers of the digital print process in fashion; David Schmelzeisen, Institute of Textile Technology Germany; and Alan Shaw, MD, Centre for Advanced Textiles, among others.
"The atmosphere at the RAI today is already supercharged, as visitors have more reasons than ever before to explore the exciting opportunities for business diversification, and witness over 50 new product launches throughout the four events," said Roz McGuinness.
The event has a €40 on-site entrance fee, last-minute visitors are welcome, says Roz McGuinness.
Founded in 1962, FESPA is a global federation of 37 member associations for the screen printing, digital printing and textile printing community.