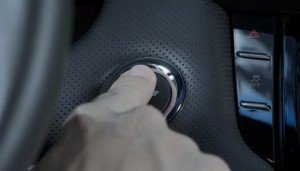 This is the expectation of California-based chip firm Synaptics, which supplies touch controllers to many of the world's smartphone companies.
According to Dr Huibert Verhoeven, v-p of the automotive business at Synaptics, at first there was resistance form many car makers for adding touch displays to dashboard.
"But now there is widespread acceptance of touch control in cars, and if we add newer technologies such as force touch and haptics I believe there is an even bigger opportunity," said Verhoeven.
Verhoeven believes the automotive market may be more interested in touch surfaces rather than smartphone-style touch displays.
"We are seeing interest from car makers for haptic touch on the steering wheel and biometric fingerprint sensors," said Verhoeven.
According to Verhoeven, European car makers leading the way in considering the implementation of touch surfaces, such as on the dashboard and on the steering wheel.
"Most of the major European car OEMs have usability labs in Silicon Valley," said Verhoeven.
But it is a different market compared with the consumer market. "For European car makers adopting touch and bringing in new suppliers is a big deal," said Verhoeven.
In Europe the automotive design cycle is two years and then there is a four year product life," said Verhoeven. "In China they move faster and want a product in a year."
Synaptics will supply the integrated touch controller and display driver chips and the tier1 automotive suppliers will design them into modules. They will also develop the all-important user interface software, which the car companies want to keep complete control over.
The presence of external electromagnetic fields in the car could be an issue with touch and particularly proximity sensing, but Verhoeven believes this can be compensated for in the design.
"We already have automotive specific devices working and on the road," said Verhoeven.
Synaptics is already supplying display drivers to car makers for cluster displays and heads-up displays.
It is has added touch controllers which are AEC-Q100 compliant and Verhoeven said its first design wins should be in production in the first half of 2016 in China and Taiwan.
The automotive touch controllers support touchscreens up to 17 inches.
It also has fingerprint sensors  for unlocking aimed at car door handles, steering wheels and starter buttons.
Synaptics main market is in consumer products and smartphone in particular, where it has a reputation for supplying touch controller which integrate the display drivers.
For these the company uses its own proprietary DSP. Synaptics does have an ARM licence and Verhoeven said that future controllers, especially for non-consumer applications such as automotive and industrial, may be ARM-based.
Its latest touch controllers with integrated display drivers for smartphones include support for high definition (HD) displays and are sampling to LCD manufacturers.
According to Verhoeven, the controllers support up to ten fingers, passive stylus, face detect, low power wake gestures, gloved touch as well as working in the presence of moisture.