Elektra Awards 2012 – The Winners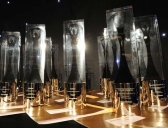 The Elektra Electronics Industry Awards 2012 were presented at a Gala Dinner at the Park Plaza Westminster Bridge London Hotel last night. 
This established annual highpoint of the electronics industry, was excellently hosted this year by TV impressionist and comedian Rory Bremner, and watched by a large and enthusiastic audience representing all sectors of the industry.
See all the winners in our picture gallery >>
Congratulations to all the winners! The full details of the winners are beneath the video:
Design Team of the Year
Sponsored by Cadsoft Computer
Winner
TT electronics Passive Components Business Unit – Design of a polar inductor for a medical implantable device for the treatment of high blood pressure
Finalists
Eosemi – ATOC Accurate Timing Oscillator Circuit
ByteSnap Design – Developing electric vehicle charging posts for London 2012
Distributor of the Year
Sponsored by IC Group
Winner
TTI
Finalists
Anglia Components
Caltest Instruments;
Farnell element14
Mouser Electronics
RS Components
Green Electronics Award
Sponsored by National Instruments
Winner
Ericsson Power Modules – Reduction in life-cycle impact of products in operation
Finalists
ebm-papst Mulfingen – Global GreenTech Programme
Farnell element14 – Packaging and Recycling Project
TT electronics Variable Components Business Unit – Magnetorque Non Contact Steering Torque Sensor
Manufacturer Export Award
Sponsored by Agilent Technologies
Winner
Zytronic Displays
Finalists
Marl International
United EMS
?
New Company of the Year
Sponsored by International Rectifier
Winner
Iceotope
Finalists
Gnodal
Triggertrap
?
Educational Support Award
Sponsored by Pinnacle Marketing Communications
Winner
Rohde & Schwarz – €7.5m in financial assistance given to European universities
Highly Commended
Aeroflex – £2.5m investment in wireless labs at Lancaster University and University College London
Finalists
Analog Devices – Analog Devices University Programme: Hands-on Learning For the Next Generation of Engineers
Harwin – 'Supporting Future Technology through University Sponsorship'
Parallel Systems – Free OrCAD software
SILICA – Pedal4Innovation University Programme
University Department of the Year
Sponsored by RS Components
Winner
UCL Electronic and Electrical Engineering
Finalist
The University of Manchester
Rising Star New Engineer of the Year
Sponsored by Farnell element14
Winner
Chris White, Design Engineer, Amantys
Design Tools and De velopment Software Award
Sponsored by IC Software
Winner
Mentor Graphics – Calibre RealTime
Finalists
ByteSnap Design – SnapUI (version 2.1)
Cadence Design Systems – Encounter Digital Implementation (EDI) System with 3D-IC
CadSoft Computer – EAGLE V6
Synopsys – Synopsys Virtualizer Development Kit
Xilinx – Vivado Design Suite
Embedded System Product of the Year
Sponsored by Electronics Weekly.com
Winner
Intersil – Pico-qHD Pico Projector System Reference Design
Finalists
Altera – Altera's SoC FPGA
Freescale – Kinetis L series Microcontrollers Based on ARM Cortex-M0+
Maxim Integrated – Newport – Smart meter reference platform with integrated security
RFEL – HyperSpeed Plus (ultrafast FFT core for FPGAs)
Silicon Laboratories – Precision32 Mixed-Signal Microcontroller
?
Passive & Electromechanical Product of the Year
Sponsored by Arrow Electronics
Winner
Syfer Technology – ProtectiCap capacitors
Finalists
AVX Corporation – TCJ Series polymer tantalum capacitors
Harting – Han-Fast Lock
Melexis Technologies – Triaxis Hall effect magnetic sensor
Murata Electronics Europe – Low ESR, electrical double layer capacitor
Omron Electronics Components – G7L and G8P relays
Power System Product of the Year
Sponsored by Harting
Winner
Linear Technology – LTM8048 – µModule isolated DC-DC converter with transformer
Highly Commended
Amantys – Amantys Power Drive IGBT Module Gate Driver
Finalists
Cree – 50A Silicon Carbide Devices
N2Power – XL375CC 260 Watt Convection Cooled Power Supply
Powervation – PV3101 Digital DC-DC Controller
Renewable Energy Design Award
Sponsored by MSC Gleichmann
Winner
Zeta Specialist Lighting – The Solar Paddle
Finalists
Analog Devices – ADP1046 Digital Controller for Isolated Power Supply Applications
Heliatek – Organic solar films
National Instruments – The Power Cube Featuring NI CompactRIO
Semiconductor Product of the Year – Analogue
Sponsored by Mouser Electronics
Winner
Maxim Integrated – MAX44009 digital ambient light sensor
Finalists
ams – AS3935 Franklin Lightning Sensor IC
Integrated Device Technology – IDT 90E46 single phase power metering SoC
International Rectifier – PowIRstage
Linear Technology – LTC4366 – overvoltage protection controller for 9-500V
Microsemi – Low power body area network IC
Semiconductor Product of the Year – Digital
Sponsored by Rohde & Schwarz
Winner
Lattice Semiconductor – iCE40 Ultra Low Density FPGA Family
Finalists
Altera – Altera's Optical FPGA
Freescale – Vybrid microcontroller combining ARM Cortex-A5 and Cortex-M4 cores
LSI – LSI SandForce SF-2200 SSD flash storage processor
Texas Instruments – Wolverine MSP430 Microcontroller
Solid-State Lighting Application Award
Sponsored by Anglia
Winner
Plessey – MAGIC series high brightness LEDs on a gallium nitride-on-silicon substrate
Finalists
Arrow Electronics – Arrow LEDagon reference design combines LEDs with thermal management and control
Cree – XSP Series LED Street Light
LED Engin – ViviLux family of high-efficiency LED emitters
OMC – Spectralux Light Engines
Oxley Developments – LED Landing Light
?
Test Product of the Year
Sponsored by Neesham PR
Winner
National Instruments – Vector Signal Transceiver
Highly Commended
Agilent Technologies – Infiniium 90000Q 63GHz oscilloscope
Finalists
JTAG Technologies – JTAG Live – AutoBuzz
Newtons4th – PPA1500 Power Analyser
Rohde & Schwarz – ZNB Network Analyser
Teledyne LeCroy – LabMaster 10Zi 65GHz oscilloscope
Yokogawa Europe – Software package for the testing of standby power and WT200 Series Power Meters
?
?
Product Innovation Award
Sponsored by Avnet EM
Winner
Neul – NeulNET
Finalists
FlatFrog – Touchscreen that uses scattered light
HTC – HTC One X smartphone
Thales – Gesture control screen for in-flight entertainment
Tobii Technology – eye control technology for PC's
Company of the Year
Presented by Electronics Weekly
Winner
National Instruments
Lifetime Achievement Award
Presented by Electronics Weekly
Winner
Dr David Milne OBE
Stay tuned for picture galleries and videos from the evening!